It was only after elaborate planning and careful execution that our Loremaster was able to assemble the strange tales and legends of our friendly guides to your Wizard's Museum Construction Kit.TM Here we proudly present his findings.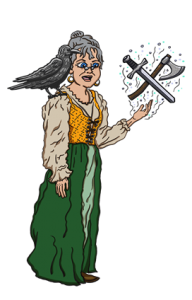 Agnes
Small, quiet and reserved could all be used to describe the enchantress named Agnes. A great scholar, her power manifests itself in the form of knowledge gained through years of intense study and meditation. Until recently, Agnes spent her days in seclusion, preferring the company of her books to that of other wizards or common folk. This has changed as she has come out of seclusion and is starting to interact with her fellow wizards out of necessity. She claims that she is attempting to refresh what she considers an old and tired collection of magical artifacts owned and studied by her for too long to hold her interest any more. Now she spends her time bidding on newly discovered magical treasures or haggling with other wizards trying to wrest control of the their artifacts, which she covets for her own collection.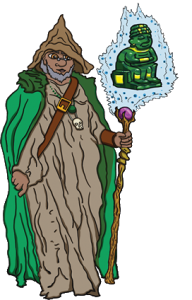 Oliver Wanderlust
Hailing from the western swamps, Oliver is a well known and well liked wizard who spends his time traveling the land, helping those in need of his magical talents. Because many of the people he helps have little to give in the way of payment, Oliver is often given recompense in the form of family heirlooms, many of which are magical in nature. Over the years this good mage has grown quite a collection of arcane artifacts, each item linked to the memory of the person he helped through difficult times. As his collection has grown, so too has his desire to see his favorite bits completed, for Oliver knows that, in magic most of all, the whole is greater than the sum of its parts. Currently Oliver is traveling a route between the great cities, scouring their auction houses for that one elusive find which complete his collection.
Lissa of the Dunes
Lissa was born to the Wandering People. Her culture venerates the few wizards they produce. Growing up among the Dunes and the People, Lissa flourished, quickly showing promise as an enchantress of great skill and power. Rising to a position of influence among the People, Lissa is using her new income to build a collection of magical artifacts. Rumours are spreading that she is amassing magical arms for some political end, but others whisper that all Lissa truly wants is to surround herself with beauty and peace, rare commodities indeed among the People.
Alexander Malishae
Alexander is a troubled youth with more raw power and talent than is good for anyone. Luckily, his penchant for trouble making has contained itself to minor infractions of the law, such as turning the local town founder's statue an interesting shade of purple or magically bonding the mayor's cat with the constable's dog. The young wizard's recent activities have also included the purchase of magical artifacts. He claims this sudden interest in magical creatures and artifacts springs from his desire to "be like all the other stuffy wizards with their toys." It is generally believed that should an item of true power fall into Alexander's hands there would be no telling the amount of destruction he could bring about, but as it stands now the childish wizard is content to purchase items randomly and with little concern as to their use or importance.