Wizard's Handbook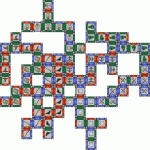 This page will help you get a feel for the game.  Make yourself at home, take your time wandering around.
Watch the start of a game
Very often, the best way to learn about a game is to watch your friends play out a couple rounds. Since we don't have the luxury of inviting you over, we put together this example of play. Take a look, and let us know if you have any questions. Go ahead, watch the game in this example of play.
Chat about style and strategy
Peter, our editorial whip, has a few notions on how to play. Maybe he'll give you some good ideas.
Watch the end of a game
While we were talking, it looks like another game started and ended. Let's just peek over Lori's shoulder while she scores her museum. Go ahead, watch Lori win in this scoring example.
Consider some house rules
One way to play with younger players is to make the game's scoring a little more friendly.
Ask some questions
The wizards at Flatland Games are your faithful curators: if you have any questions, frequently asked or not, please let us know.